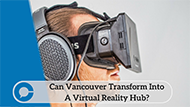 Ep 171 Patrick Pennefather & Etienne Farreyre
Vancouver is virtually a VR Centre of Excellence
When you think of Virtual Reality, what comes to mind? Most likely it's new tech, mostly to be used for the entertainment industry. But in reality, that's only scratching the surface of the possibilities that VR, AR and MR present. The future of education, medicine, video games, communication, and a thousand and one other platforms, are changing and they're adopting an augmented reality component.
Enter Etienne Farreyre and Patrick Pennefather. One is a representative from France, who has taken a deep interest in the Vancouver tech scene and our growing VR community. He has paired up with our guy from the Emily Carr Digital Media Centre here in Canada to instigate discussions around international relationships in this age of communication, technology, and Virtual Reality.
The possibilities are endless, with simulated surgeries for medical students, to spending time in the same virtual room with people around the globe. To talk about where we're at in this rapidly ever-changing world, potential collaborations between France and Canada along with Vancouver's place in the augmented reality development world, we sat down with Etienne Farreyre and Patrick Pennefather for real a Conversation that Matters on video about Virtual Reality.
Simon Fraser University's Centre for Dialogue presents Conversations That Matter. Join veteran Broadcaster Stuart McNish each week for an important and engaging Conversation about the issues shaping our future.
Please become a subscriber and support the production of this program, www.conversationsthatmatter.tv