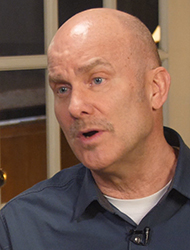 Does it ever seem to you that the marketing of food to kids has a sinister aura? Namely, let's hook 'em on sugar and watch the sales skyrocket. Once you have them addicted, they're a client for life.
You're right – that is what's happening, and marketers are doing it intentionally. Sugar, sugar, sugar all the time, and it has devastating lifelong health effects on children.
Heart and Stroke Canada wants the Federal Government to enact legislation that will put an end to the marketing of sugar-rich, highly processed junk foods to kids. They believe that marketing to kids is targeting a highly susceptible demographic and those should pick on someone their own size.
Of particular concern, is a bombardment technique that leads to a thing we discuss called the nag factor. What's fueling the nag factor? Endless advertising - advertising the Stop Marketing to Kids coalition says has to be outlawed.
We asked Mark Collison of Heart and Stroke to join us for a Conversation That Matters about how the marketing of food to kids is affecting their lifelong health.
---
Please become a Patreon subscriber and support the production of this program, with a $1 pledge https://goo.gl/ypXyDs
Simon Fraser University's Centre for Dialogue presents Conversations That Matter. Join veteran Broadcaster Stuart McNish each week for an important and engaging Conversation about the issues shaping our future.