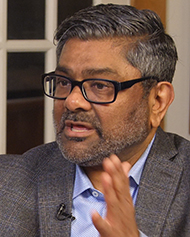 Prime Minister Justin Trudeau likes to say, "Diversity is our Strength"
Is it? What does he mean when he says that and does diversity strengthen or diminish democracy? The answer is complicated, it starts with an open invitation to full participation in citizenship and a collective willingness to do the necessary work. Work that includes ongoing discussions about overarching values, ideals and goals such as human rights, justice, equality, individual freedom and access to opportunity.
Lost in the discussions pertaining to immigration and the acceptance of refugees is the responsibility of those of us who are already here to enlighten, inform and educate newcomers about what is expected of them as participants in society. 
Together, and from within individual communities, we, yes, the royal we, need to share what is expected of citizens and landed immigrants, what it means to participate in democracy, what it means to be an informed voter.
So how are we doing here? Canada grants full access to participation, this we do well. We say we believe in diversity but we can't stop there. We need to do a better job of educating and demonstrating that for our democracy to strengthen - everyone must embrace one another's rights. And we must defend each other's rights. If I have the freedom to express my opinion then I have an obligation to defend your right to do the same and so on.
Martin Luther King, writing from his jail cell in Birmingham Alabama said, We are caught in an inescapable network of mutuality, tied up in a single garment of destiny. Whatever affects one directly, affects all indirectly, This is reciprocity.
The Center for Multicultural Education at the University of Washington, Seattle, established a Diversity, Citizenship, and Global Education Consensus Panel. The Panel's goal was to develop a set of design principles and concepts that develop or renew citizenship education programs that reflect both diversity and unity and that prepare people to become effective citizens in a global context.
We invited Zool Suleman, an immigration policy consultant and a powerful civil rights champion for immigrants and refugees to join us for a Conversation That Matters about Unity in Diversity.