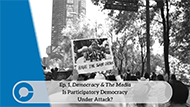 Ep 173 Valerie Lemmie
Is Democracy Under Attack?
Is democracy under attack? Have we let the people we elect off the hook? Are you involved in the decision-making process or are you merely a compliant customer who is being managed?
There's no doubt about it, we are polarized over the role of government in our lives. Is the role of government to create opportunities for markets to thrive or is it to create environments for people to thrive? The tug of war between the left and right rages on while the balance point between these two perspectives appears to have been lost.
Where you come in does not end at the ballot box. We all have a responsibility to speak up, get involved and work with the public officials we elect and employ to ensure they work on our behalf.
Valerie Lemmie of the Kettering Foundation, a Washington DC-based democracy watch organization says you and I are what democracy is all about. We asked her to join us for a Conversation That Matters about our role in governance.
Simon Fraser University's Centre for Dialogue presents Conversations That Matter. Join veteran Broadcaster Stuart McNish each week for an important and engaging Conversation about the issues shaping our future.
Please become a subscriber and support the production of this program, www.conversationsthatmatter.tv