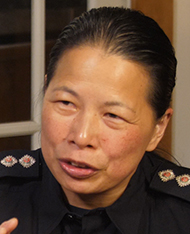 Ep 180 Inspector Colleen Yee
Women's Personal Safety
Did you know that assaults against women are one of the few crimes that have not decreased in Metro Vancouver? And that women are most at risk while in transit from one destination to the next or at home?
Do you know what to do? Do you know how to reduce the likelihood of being a victim? Do you know what to do if you suspect you are in trouble and then what?
It's a question a dedicated group of female officers with the Vancouver Police have answered. Once a month they conduct a Women's Personal Safety workshop, for free and for women only. No male instructors, no male participants.
It's a program that will arm you with vital information that will help you survive a violent attack be it at home or when you're out in the city.
It's a program filled with information you've never heard before. Information and easy to remember and easy to execute techniques that are incredibly effective.
We invited Inspector Colleen Yee of the Vancouver Police to join us for a Conversation That Matters about strategies that allow you to survive in the presence of mortal danger.
Simon Fraser University's Centre for Dialogue presents Conversations That Matter. Join veteran Broadcaster Stuart McNish each week for an important and engaging Conversation about the issues shaping our future.
Please become a subscriber and support the production of this program, www.conversationsthatmatter.tv